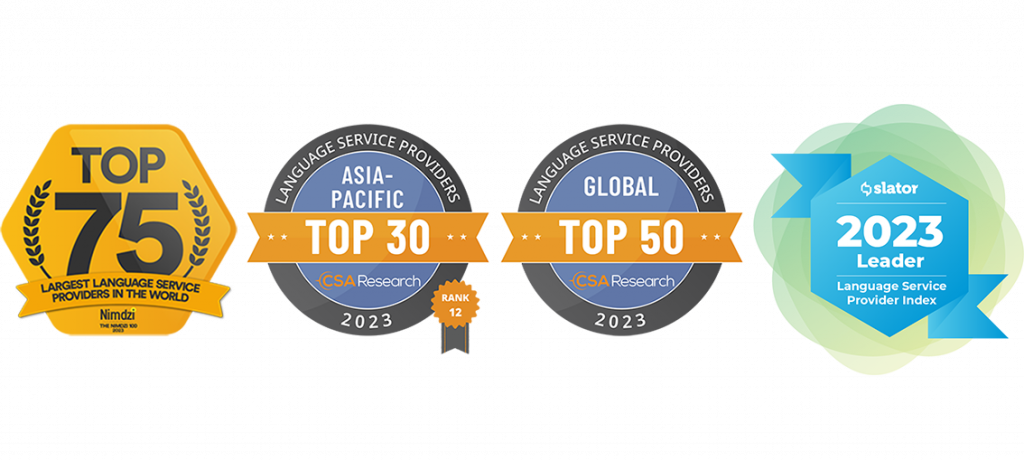 The 2023 edition of language service provider rankings have come in. This year Crestec once again made the top 75 in the Nimdzi 100 ranking, top 50 in CSA Research rankings, and was listed as a Leader in the Slator Language Service Provider Index.
Collectively, the top 100 LSPs in the industry saw growth of approximately 17% in the last fiscal year. Mergers and acquisitions had a strong influence on the rankings, while the presence of new up-and-coming businesses indicates that there is still room for growth as the world pulls out of the COVID-19 pandemic and adjusts to revolutionary technologies.
The Nimdzi 100 ranking tracks growth and changes within the industry. This year Crestec ranked 70 in the Nimdzi 100. All of the companies in the top 100 saw healthy growth over the last year, with the combined revenues of companies in the top 50 growing by 17.6%.
For the full Nimdzi ranking go to: https://www.nimdzi.com/nimdzi-100-top-lsp/
The CSA Research Global Market Survey lists the largest language service providers in the industry. In the 2023 edition of their annual survey, CSA ranked Crestec among the top 50 globally at number 42, and number 12 among the top 30 Asian-Pacific LSPs.
For the full CSA Research ranking go to: https://csa-research.com/Featured-Content/For-LSPs/Global-Language-Services-Industry-2023/TOP-100-LSPs-2023
The Slator 2023 Language Service Provider Index (LSPI) also provides a ranking of the largest language service providers. The ranking this year reflects the continued growth experienced by the industry overall. Crestec appears on this year's index in the Leader category at number 48.
For the full Slator LSPI go to: https://slator.com/2023-language-service-provider-index/
"It's encouraging to see the continued growth of the industry and the new names joining these rankings," commented Taki Kurisawa, CEO of Crestec USA. "Crestec is a forward-looking company, and we are committed to supporting the growth of our customers and partners."
Crestec congratulates all of the companies who appeared in the rankings this year, and we couldn't be more pleased to be in such fine company. Thank you to all of our partners and staff that make it possible to be among the top 100 LSPs worldwide!