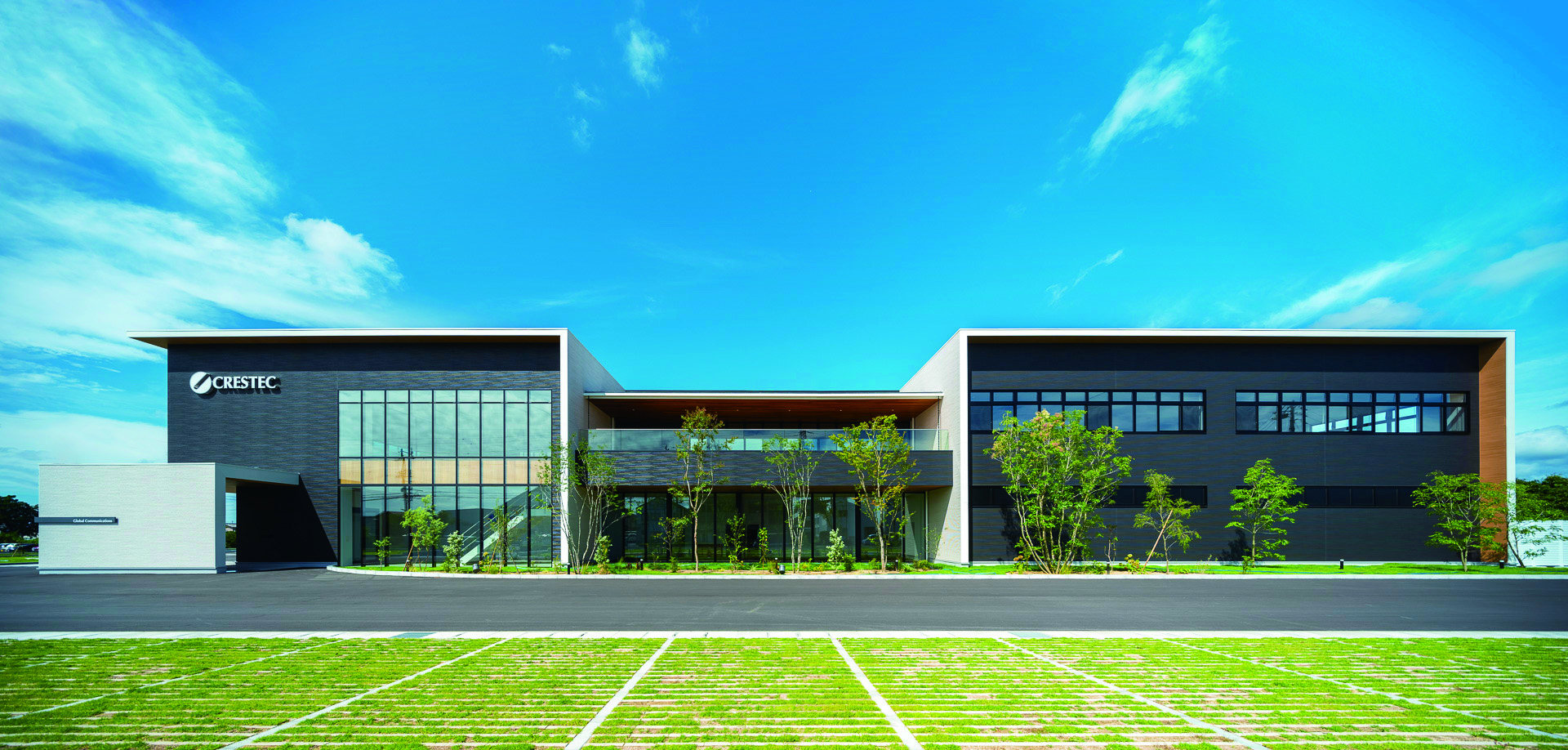 Crestec relocated to its new head office building in the first weeks of October.
This relocation is more than a change of scenery for Crestec—it is the evolution of a work style rooted in a comfortable and healthy work environment. Construction of this new space was focused around the concept of well-being. This concept represents the desire to create an environment that leads to improvements in health, concentration, creativity and productivity.
The design is built along three key themes:
COMFORT: An environment where people can feel the presence of nature (light, greenery, fresh air)
An abundance of natural light helps to stabilize the circadian rhythm as well as the mind. Greenery and contact with nature in the form of plants and gardens produces a calming effect. Fresh air and the ability to feel a breeze through ventilation or on the terraces offers refreshment.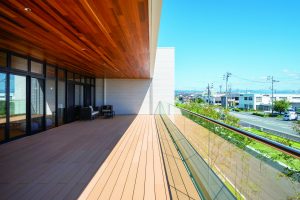 FITNESS: An environment where people can be conscious of exercise (health consciousness)
Exercising provides an abundance of health benefits, including stress relief and improved concentration. With over a third of the day spent at work, much of it at a desk in front of a computer, it is important to have access to facilities that allow people to exercise during breaks, lunch time, or before and after work. The new head office features a layout that naturally encourages walking, a gym with training equipment, a shower room, public spaces, and grounds that promote cycling, jogging, and walking.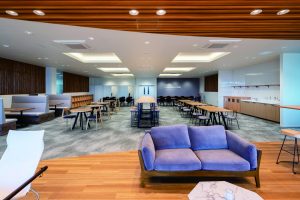 MIND: An environment that nurtures emotional stability and stress-free activity
A healthy work environment incorporates mechanisms and spaces that aid in relieving work-related stress and maintaining a calm mind. With spaces provided for privacy and meditation, people can relax, work in private, meditate, or take naps as needed. The terraces, plant arrangements, and gardens offer refreshment and calm, while the cafeteria, photo gallery, and bookshelves are spaces for relaxation and respite.
With these themes in mind, the company approached young people from every department to consult with them regarding everything from layout and composition to furniture selection for a communication area that would act as the focal point.  This communication area acts as an interstitial space where people from different departments can mingle and build and maintain relationships. The communication area is a place people can go to discuss work, chat during breaks, or perhaps just meet others by chance while passing through. It serves as a space that encourages exchange, and hopefully leads to new ideas and discoveries.
With a new head office and a work environment that is not only nice to look at, but also promotes well-being, we are more inspired than ever to prove why Crestec is your gateway to new worlds!
 New Head Office Address: 


Crestec Inc.
69 Higashimikata-cho, Kita-ku, Hamamatsu-shi, Shizuoka-ken, Japan 433-8104

Contact Aki Ito at aki.ito@crestecusa.com