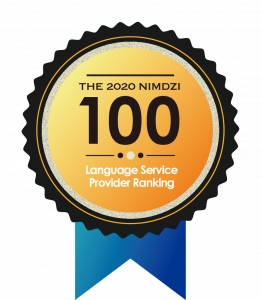 Every year, Nimdzi posts the Nimdzi 100 Ranking which ranks language service providers around the world by revenue. Nimdzi has just released their ranking for 2020, and we're proud to say that Crestec Co. Ltd, Japan placed no. 42.
Overall, the language service industry saw growth throughout the last year. LSPs in the top 50 experienced growth of 9.7%. At no.42, Crestec saw modest growth in its language services and is projected to see continued growth in the years to come.
"We are proud of this result," said Takeomi Kurisawa, CEO of Crestec USA. "Our focus continues to be making our customers happy, and our ranking should go up even more as long as we keep our priority on our customers."
We at Crestec USA, Inc. are proud of this result. We intend to continue working to make Crestec your number 1 choice among LSPs and your gateway to new worlds!
The Nimdzi 100 ranking is a valuable tool for keeping track of growth in the language services industry and the performance of key service providers.
For the full ranking, go to: https://www.nimdzi.com/2020-nimdzi-100/