(*Linked or embedded content may have been removed or be unavailable.)
You've established a brand or product line in your home country, and the next step is overseas markets. Now take a little time to jump through some hoops before you take the plunge. Do some research and make sure your brand or product name can be used in the market you're trying to enter. Here are some convenient, free online trademark search engines that can give you some idea of whether your brand name is viable or problematic.
But before we begin, please understand that there are a few important things to keep in mind when taking your name overseas. They are:
Is that name or something very similar to it already being used by someone else in the target market, or has it been registered by a trademark squatter?
Does that name carry some negative connotation, unintended meanings, or is it otherwise culturally unacceptable in the target market?
If your trademark uses an iconic design element, does it also clear items 1 and 2 above?
Depending on the market, should you localize your brand/product name into local non-alphabet script (such as Chinese, Japanese, Korean, Thai, Hindi, Arabic, Cyrillic, etc.) or use your tried and tested alphanumeric name as-is? (Related post here.)
In this blog post, we can only offer you some tips on item 1 above, but hopefully that will provide a quick onramp on your way to a bigger and brighter world for your business.
WIPO Global Brand Database
This is the trademark search engine offered by the World Intellectual Property Organization (WIPO), covering 53,992,402 records from 73 data sources in Europe, the Americas, Asia (with the notable exception of China) and Oceania. The page itself can be displayed in English, French, Spanish, Russian, Chinese, or Arabic. In addition to the Quick Search function that shows you a wide range of related entries, you can search specifically by brand name, by brand logo (just drag and drop a graphic onto the field), by goods and services descriptions, as well as more advanced search possibilities. If you're looking for a one-stop trademark search solution that covers most of the globe, this is it.
https://www.wipo.int/branddb/en/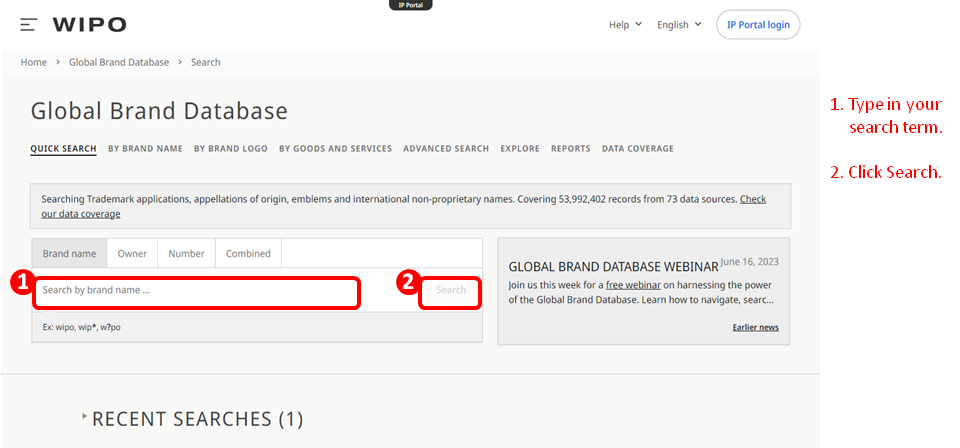 TMview
This trademark search engine is coordinated and maintained by the European Union Intellectual Property Office (EUIPO), and lets you search 112,593,427 trademarks across the European Union as well as non-EU Europe, Africa, Asia, Oceania, and the Americas. Here, as with the WIPO engine above, the user has a variety of trademark name search options as well as image search (which is still in beta so it might be testy). The portal itself can be displayed in your language of choice from among 37 languages in total (mainly European).
https://www.tmdn.org/tmview/welcome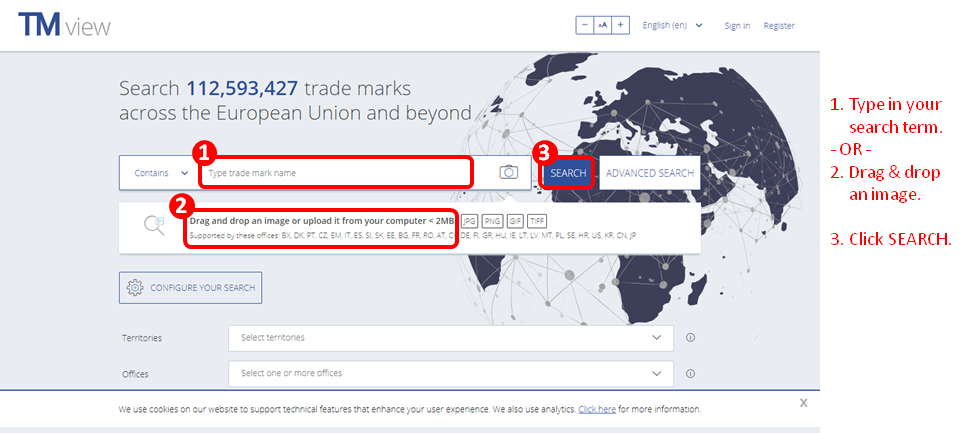 But guess what, if your area of interest is Europe, EUIPO offers another trademark search engine called eSearch plus. The trademark search results for this engine will be limited to EU countries, so it might be a good way to double-check results if you intend to target the EU market.
China Trade Mark Office
When we talk about going global with your brand, perhaps there's no escaping China. And since China is not covered by global engines such as WIPO, it might be worth your while to check out this portal. But be forewarned, this site can be quite sluggish, perhaps due to heavy traffic. A pull-down menu ostensibly lets you search in USPTO, WIPO, BX, German, Italian, UK, EU, Spanish, French, and Canadian databases as well, but considering the response time we suggest sticking to China.
https://www.chinatrademarkoffice.com/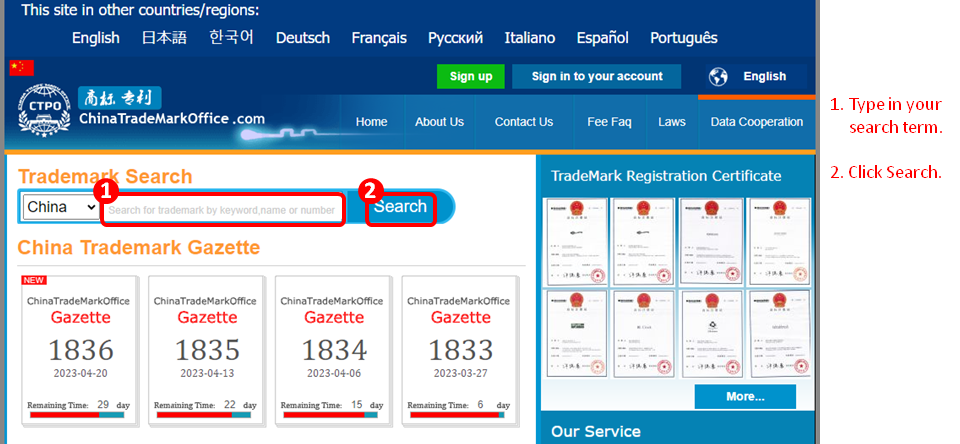 J-PlatPat (Japan Platform for Patent Information)
If you're looking to enter the Japanese market, this is the site where you can check for trademarks as well as designs and patents. The site is available only in Japanese or English.
https://www.j-platpat.inpit.go.jp/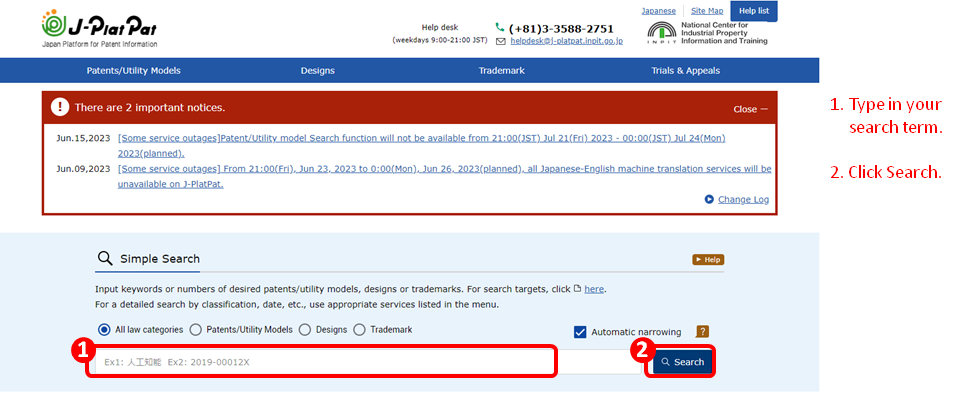 KIPRIS (Korea Intellectual Property Rights Information Service)
Search the KIPRIS database here. You can search for patents, designs and trademarks using their portal, which can be displayed in Korean or English.
http://eng.kipris.or.kr/enghome/main.jsp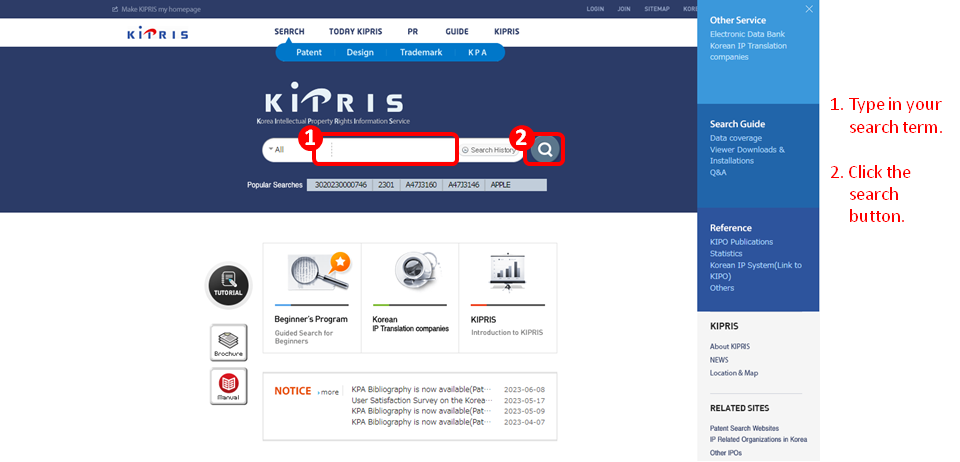 ASEAN TMview
This is the ASEAN version of TMview, covering the trademark offices of Brunei, Cambodia, Indonesia, Laos, Malaysia, Myanmar, the Philippines, Singapore, Thailand, and Vietnam. If you're planning an expansion into Southeast Asia, it would be a mistake not to check the situation in these key markets. The site is displayable in English, Indonesian, Khmer, Lao, Burmese, Thai, and Vietnamese.
http://www.asean-tmview.org/tmview/welcome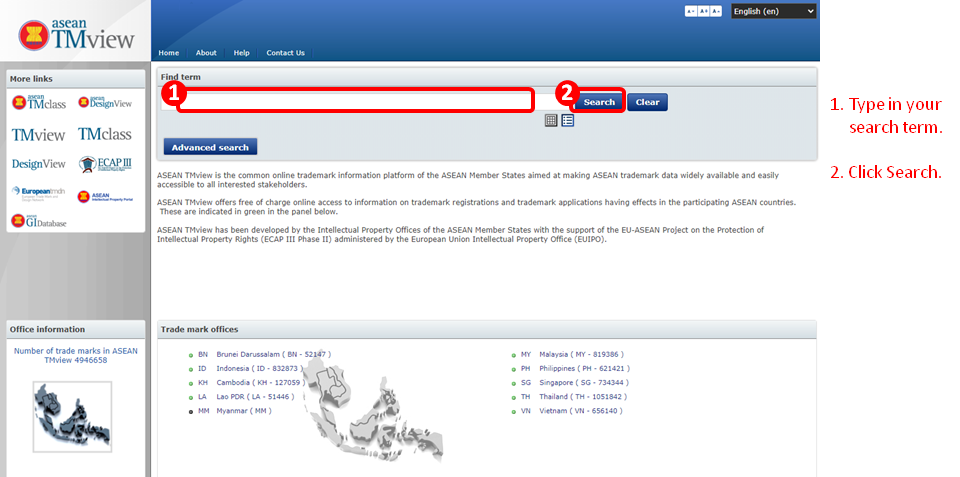 For the English-Speaking World
Let's say you're not venturing far from home (at least not linguistically) in your next marketing move. Or, perhaps you're a non-US entity seeking entry into the US market. Either way, here is a list of trademark search engines that you might want to try.
Intellectual Property Office (UK)
https://trademarks.ipo.gov.uk/ipo-tmtext
Australian Trade Mark Search
https://search.ipaustralia.gov.au/trademarks/search/quick
IPONZ (New Zealand)
https://www.iponz.govt.nz/about-ip/trade-marks/search/
Canadian Trademarks Database
https://ised-isde.canada.ca/cipo/trademark-search/srch
USPTO (United States Patent and Trademark Office)
https://www.uspto.gov/trademarks
At the USPTO site, you will have to click on the "Search TESS" link, and then click on "Basic Word Mark Search (New User)" to access the search engine, making it a little trickier than the other databases. TESS stands for Trademark Electronic Search System.
Just remember
When it comes to trademarks, it's better to be safe than sorry. I personally witnessed a situation where a client trademarked the product name [something]cam and took it overseas, only to be threatened with a lawsuit by another company named [something]com. Different "cam" and "com," but too close for comfort. Fearing litigation, the client dropped the product name.
But in another case, a client trademarked a certain name even though the exact same name was already trademarked by another company, but for a different product category. Here the client created a unique logo and reached an agreement with the other party that there would be no overlap or confusion, and the name was not challenged. Things can be subtle and tricky, so it's important to be prepared.
Results from these free trademark search engines by no means constitute a guarantee of usability but should help you to flag any glaring problems you might potentially encounter with your brand or product name in a new market.
Douglass McGowan