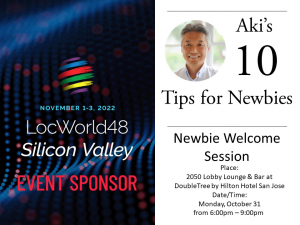 As a LocWorld veteran, Crestec's own Aki Ito has prepared a series of tips to help you make the most of your conference experience.
Tip 1
If you're new to LocWorld, come to the Newbie Welcome Session specifically designed for you. You'll meet other newbies, veteran attendees, and conference organizers in a cozy setting.
---
Tip 2
Network before you come to the conference. LocWorld offers an online networking site. You'll get a link access the networking site. Check out the speakers and other attendees, or start a group discussion. I used to start a group discussion about going to karaoke. It was a great way to get to know people!
---
Tip 3
If you're a salesperson who is attending LocWorld for the first time, your expectations must be building up. But drop all the company brochures and sales pitches. Everyone is looking for good information exchange, but nobody appreciates salespeople who hover over them.
---
Tip 4
More tips for newbie salespeople. Buyers at LocWorld are experienced buyers. You'll only embarrass yourself if you start your conversation with a sales pitch. Focus on having a good time with everyone you meet. That good vibe you create will bring you some leads.
---
Tip 5
Don't forget about leaving your business cards at each booth. There will be a prize drawing at the closing session, and you may win something great. I won an iPad one time. I texted my wife with excitement. Her reply was, "That's mine."
---
Tip 6
If you're a buyer and don't want to be bothered by salespeople, simply tell them you don't need new vendors. But you may want to network with experienced salespeople who listen to you. They often share good information and contacts.
---
Tip 7
The conference lasts only 2 days, but your network will last longer. After having a good conversation, ask the person if you can send a LinkedIn invitation to connect.
---
Tip 8
Prepare good questions instead of a good elevator pitch. Let them talk first by asking some questions. After they talk enough, they will naturally give you a chance to talk. That's a sign that they are ready to listen to you.
---
Tip 9
My favorite question to ask: How did you end up in the localization industry? You will hear many interesting stories.
---
Tip 10
Get to know the conference organizers. They are very nice and helpful. Also, they know almost everyone in the conference. Thank them for their great job running the conference. They may become a networking hub for you.